To the Lighthouse: Savagery at St. George Reef
The barren rocks of St. George Reef had been swallowing ships for decades. Lying about six miles northwest of Crescent City, California, this unassuming peak of submerged volcanic mountain near Point St. George had been known and feared by sea captains for years. The unsavory reputation was hard earned — by the end of the 20th century the reef claimed hundreds of lives.
Mere awareness of this dangerous terrain didn't stop the likes of the Brother Jonathan from slamming into it on July 30, 1865. Only 19 of the 244 people aboard managed to survive the wreck.
Disaster Strikes
The Brother Jonathan was heavily laden with 50 million dollars worth of gold coins, bars, and jewelry. It carried hefty Wells Fargo shipments meant for Portland and Vancouver, passenger money, and annual treaty payments to Indian tribes, among other riches. Passengers included everyone from prospectors and settlers to prostitutes, freed slaves, and dignitaries. The ship seemed doom from the outset, encountering setbacks almost as soon as she left San Francisco Bay. Within a few hours of departure, she ran into a gale so rough it forced seasick passengers into their cabins.
On the day of the wreck, the steamer anchored in Crescent City. It was still only the first leg of the trip. That afternoon, the ship left the bay and encountered more inclement weather. As she crept closer to Oregon, the seas became violent with waves "high as mountains" that forced the captain to turn around. They would return to Crescent City to wait it out in the harbor. Less than an hour later, when they were tantalizingly close to port, a mate readying an anchor noticed something dark beneath the water. But it was already too late. The waves lifted the Jonathan onto a pinnacle of rock that tore a gaping hole in its already-damaged hull. Within five minutes the captain knew it was no good; he gave the order to abandon ship and for the crew and passengers to try and save themselves.
Despite there being enough lifeboats for all, the crewmen couldn't deploy them. In the end, they managed to load and lower several laden with passengers. Rough waves capsized or smashed all but one little surfboat. It managed to make it out carrying five women, three children, and eleven crew members. Everyone else perished and the ship went down within 45 minutes.
A Stab at Safety
The sinking of the Brother Jonathan finally galvanized people to do something about the deadly conditions at St. George Reef. Two years after the wreck, the Lighthouse Board requested funds for a lighthouse, but a cash-strapped Congress shot them down. It would take a large sum to construct a lighthouse in such a desolate place, money a government fresh off the Civil War was unwilling to fork over.
Years later in 1881, workers completed a lighthouse at Tillamook Rock off the Oregon coast. Like St. George Reef, this feat of engineering took place on exposed rock and proved construction on such terrain was feasible. Nevermind that the lighthouse, nicknamed "Terrible Tilly," became notorious for driving keepers to extremes and occasional madness. Construction at St. George began in earnest in 1883, only to stop and start multiple times over the ensuing years, plagued by problems. This stressful period also saw the death of one worker and a close call that nearly claimed several more lives when a wave crashed into the crew's quarters in the middle of the night and washed them out of their bunks.
After a Herculean effort, the lighthouse was finished in 1891. It would be another year before it was lit, however, as a Fresnel lens was still en route from France. In the meantime, a twelve-inch steam whistle was activated on December 1st and kept the keepers partially busy until October of 1892, when the reef was illuminated for the first time. In the end, the St. George Reef lighthouse cost double the initial estimate at the equivalent to 21.4 million in today's dollars.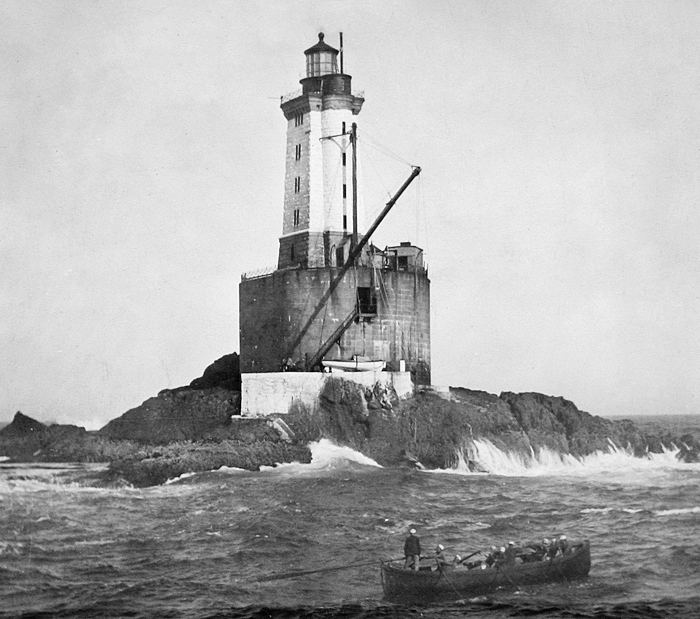 This costly structure stood twelve stories tall and loomed over the water like a medieval fortress. While your typical lighthouse featured a light tower and separate keeper's cottage, St. George had its living quarters built right in, resting atop a 50-foot high foundation. When you imagine this cold, lonely, ancient-looking edifice set against an unforgiving landscape where many had died, you can begin to appreciate just how isolating and off-putting living there must be.
You Drive Me Crazy
It was no surprise, then, that St. George Reef was the least popular post among the men in the service. Five keepers would work in shifts of three months at a time, followed by two months with family in Crescent City. Even three months was too much for many, trying their mental health to the point of nervous breakdown. Some men lost their lives or simply disappeared, as was the case with First Assistant William Erikson. He took the station's boat on a trip to Crescent City in 1895 and was never heard from again.
October of 1923 saw the installation of radiotelephones, a welcome technology that would hopefully help stave off loneliness as much as it could provide security. This was after a $50,000 armored submarine cable broke multiple times over two years.
This new tech provided little solace during the violent, fearsome storms that pummeled the lighthouse. Some were so intense that the waves rose high enough to send water straight over the top. The pounding would cause the structure to tremble and keepers often feared for their lives. This punishing weather made it impossible for keepers to leave or receive reinforcements of mail and fresh food. Georges Roux, one of the lighthouse's longest-standing keepers, described a stretch of bad weather that trapped them inside for fifty-nine days in 1937. After the first few weeks, the anxious and exhausted men were about ready to kill each other.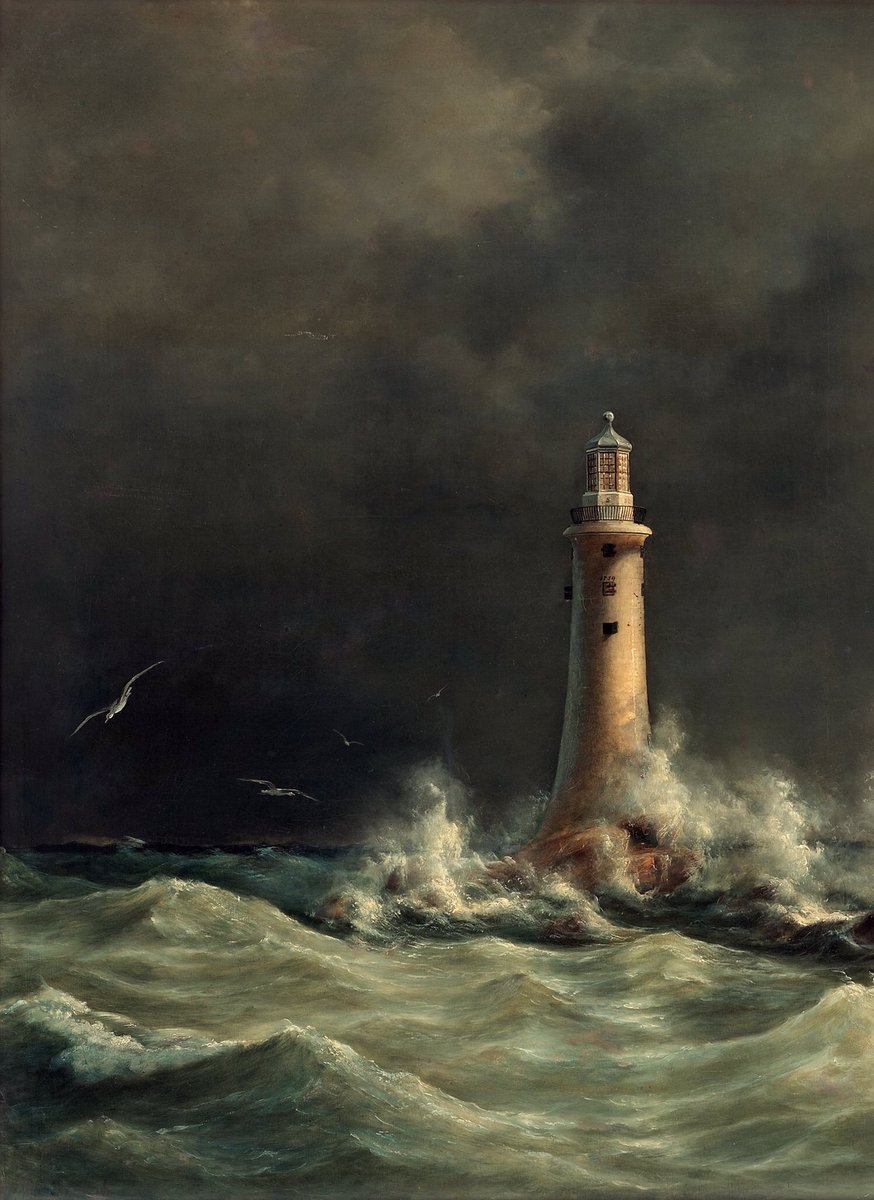 Roux sustained an injury just two years later trying to maneuver toward the lighthouse on a return trip. Waves battered and slammed him into the bottom of his boat, but he kept at it for hours. When he finally admitted defeat and returned to Crescent City, he suffered from severe bruising and hypothermia. After spending a few days in the hospital, the sixty-two-year-old died from his injuries.
Did Someone Order Extra Tragedy?
The worst disaster happened in 1951 when two young coast guard electricians came to make repairs. As they joined the rest of their five-man crew to return to shore, a rogue wave struck their boat and filled it with water as it was being lowered. The bow broke loose and the men tumbled into the icy depths. Fred Permenter, the station's officer-in-charge, managed to retrieve an inflatable raft from the boat after hoisting it back up. He threw it down and then jumped twenty feet into the ocean to swim to it, recovering the electricians along the way. One of them was already dead.
Two others had swum to a buoy and were saved by a commercial fishing boat summoned by the Coast Guard. They then recovered a second dead crewmember and tried and failed to resuscitate a third. Permenter received a medal for his rescue efforts.
It was recurring calamities like this that led to the lighthouse being decommissioned in 1975. The deadly, costly post was replaced by a large lit buoy and abandoned. Since then, the St. George Reef Lighthouse Preservation Society formed and took over ownership. They lead a restoration effort and generate funds from donations and tours to this day. Naturally, they've run into their fair share of logistical issues.
When the last crew departed the lighthouse in 1975, Chief Petty Officer James W. Sebastian wrote this entry in the logbook:
It is with much sentiment that I pen this final entry, 13 May 1975. After four score and three years, St. George Reef Light is dark. No longer will your brilliant beams of light be seen, nor your bellowing fog signal be heard by the mariner. Gone are your keepers. Only by your faithful service has many a disaster been prevented on the treacherous St. George Reef. You stand today, as you have down through the years, a tribute to humanity and worthy of our highest respect. Cut from the soul of our country, you have valiantly earned your place in American history. In your passing, the era of the lonely sea sentinel has truly ended. May Mother Nature show you mercy. You have been abandoned, but never will you be forgotten. Farewell, St. George Reef Light.
As it stands, after plenty of headaches, a fully-automated light now guides coastal workers and local fishermen through dark nights and fog-filled days at St. George Reef.
Support Specifipedia
Donate, subscribe to our Substack, @us on Twitter, go down a visual rabbit hole on Pinterest, or check out our curated Bookshop for your perusing pleasure.
Community Color
A former USCG member wrote in with the following color correction:
"I served aboard the [redacted], which serviced the St. George Lighthouse with groceries, mail, and crew. Two of us climbed into a canvas bucket and were lifted high by the boom located on the lighthouse pad from the small motor lifeboat. It was risky as the water was always surging among the rocks, even in the best weather. As we were hoisted, the bucket swung and turned, quite a wild ride: I climbed the lighthouse stairs and enjoyed the tour.

Later I was told a story that in 1951, the true story of the fatal accident occurred when the small service boat loaded with civilians and USCG crew was lifted out high out of the water on the boom, a new crew mistook an order and accidentally released the bow Pelican Hook on the small boat and all perished on the rocks below. Years later, an elderly lady living in Arroyo Grande, Calif., told me her brother who was on the tragic boat is buried in the Arroyo Grande Cemetary. My name appears in the St. George Logbook from my visit in [redacted], now in the Crescent City Museum."

FACT CHECK: We strive for accuracy and fairness. But if you see something that doesn't look right, contact us!